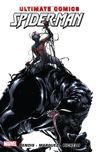 Ultimate Comics: Spider-Man, by Brian Michael Bendis, Volume 4
by
Brian Michael Bendis
My rating:
4 of 5 stars
Oh, good. Venom is here...*sigh*
Yeah, I know so many people love the symbiote that a movie featuring just him can be a huge hit so this was inevitable, but he's never done all that much for me. Plus, the version here seems kind of flat with so little done with the host that he's pretty bland and boring as far as murderous creatures go. Plus, I'm not super thrilled with Mary Jane and Gwen Stacy showing up as part of Miles' support staff. It makes sense to have them there to help pass the torch, but they did that already. Having them still in the book ties Miles into Peter Parker's story even more, and I'm itching for more Miles, less Parker legacy now. Which is another reason that I don't much like having Venom here at all. How about a brand new arch enemy for Miles not based on Peter's time as Spider-Man?
Still, I continue to love the stuff with Miles struggling to be Spider-Man, and I enjoyed Detective Maria Hill's role in this one. It does end on a huge moment, too. That stuff is keeping me engaged fully even while I'm nitpicking.
View all my reviews