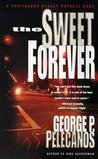 The Sweet Forever
by
George Pelecanos
My rating:
4 of 5 stars
It's the spring of '86 in Washington D.C. and while Reagan may technically be in charge of the country, cocaine is ruling the streets.
Marcus Clay is trying to run the record stores he owns and catch as many of the college basketball tournament games as possible on TV. Unfortunately, the record business could be better, he and his wife are separated, and his best friend and employee Dimitri Karras has a growing coke habit. When a drug runner wrecks his car right outside one of Marcus' shops somebody snatches the money out of the car before the cops show up, and that kicks off a series of events that eventually find Marcus and Dimitri mixed up with drug dealers and dirty cops.
This is set 10 years after
King Suckerman
which also featured Marcus and Dimitri, but much like that one this isn't just their story. In fact, they're almost supporting players in this although much of it is filtered to us through their experiences. As always, Pelecanos manages to create an authentic sense of time and place by constantly working in the music, clothes, cars, and television shows of the time, but those are just the details. Where he really shines in telling us what it's life is like for these characters whether it's Dimitri going out for a drug fueled night of partying or a dirty cop struggling to deal with his wife's mental health issues.
The story of the money is the connective thread that makes this a crime novel, but what Pelecanos is really doing is telling us the story of D.C. at a certain time and place. There's a sense of impending doom over this one with many characters noting how the drugs and street crime are taking over the city, and crack was on the horizon. Pelecanos has characters casually mention rumors that the mayor is a drug addict as well as a local basketball star which are hints at how much worse things will get if you're familiar with their true stories.
This is Pelecanos following his usual template, and he was already very good at using that to write compelling stories.
View all my reviews