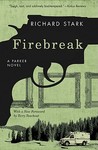 Firebreak
by
Richard Stark
My rating:
4 of 5 stars
When Parker's in the middle of killing somebody you'd think he'd be too busy to take a phone call about a potential job, but a man's gotta eat.
The score is a bunch of valuable paintings that a rich d-bag had stolen for himself and are now hidden away in a remote hunting lodge he owns. However, security is very tight due to a previous botched robbery attempt, there's a very tight clock on when this has to get done, and one of the crew is a high-strung computer nerd fresh out of prison. Parker also needs to track down whoever sent a hit man after him so there's no shortage of complications to this one.
This series started in the '60s, and I think it works best as retro old school crime stories. However, Richard Stark (a/k/a Donald Westlake) came up with some good modern variations on his usual stories when he brought Parker back in the '90s. Here, the rich guy made his money as part of the dot-com boom back when those guys were just wealthy assholes rather than evil billionaires bent on destroying democracy and/or the working class. Ah, the good old days….
So between that and all the Internet and communication angles to the heist you can tell that Stark was figuring out a way to make Parker still viable in the digital age. And it works. They may be using computers to help pull of this heist, but somebody still has to go in and get the stuff which also means having a tough guy who can think on his feet.
I also liked the angle to the hit man story and the brutally efficient way that Parker backtracks the guy to the people who have an old grudge against him. There's a lot going on in this one, but Stark makes it all fit together and hum along right along to its conclusion.
View all my reviews